San Dieguito River Park
- 1 -
Welcome to the San Dieguito Lagoon!
The San Dieguito Lagoon Interpretive Walk takes us along the northern edge of the lagoon in Del Mar. The Lagoon Trail will eventually extend west to the Pacific, but for now it begins with Boardwalk as the start of the Coast to Crest Trail, 55 miles (33 miles of trail already completed), to the Eastern limit of the San Dieguito River Park at Volcan Mountain near Julian. The recently restored Del Mar Wetlands are a major part of the walk, which reveals the diversity of plants, animals and habitats that make up the lagoon's ecosystem.

You are currently standing at the San Dieguito Entry Monument. This monument was funded through a grant from the County of San Diego at the recommendation of Supervisor Pam Slater-Price. Its iconic presence helps give recognition to the San Dieguito River Park so that visitors know when they have arrived at the Lagoon and the Coast to Crest Trail.

This interpretive walk is approximately 2 miles (4 miles round trip) and is a flat and easy hike. It is not a loop trail, you may turn around when the trail ends, or at any point along the way. You'll find the trail is just as exciting on your journey back. There are three other Park trails close by that you may wish to explore later.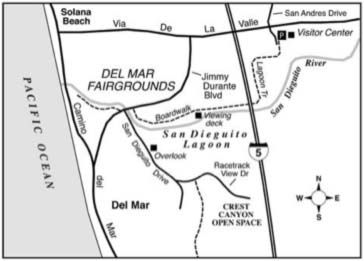 As you begin the walk, please keep an eye out for numbered posts along the trail. Each post will mark a discovery point that will provide you with information about the lagoon and how plants, animals and humans can share and interact in the same environment.
.