San Dieguito River Park
- 13 -
What is the white fenced area off in the distance?
This is one of the Lagoon's five nesting sites for the federally listed endangered Least Tern and threatened Snowy Plover. Since these bird species like to make their nests on the ground in exposed areas, their eggs are extremely vulnerable to predation. Fences were put in place to help protect them from predators. The white coloration you see on the ground is sand excavated from the channel inlet mixed with crushed shell. This dredged sand was used to create a specialized habitat for these threatened and endangered bird species.
Dust Devil Nature Trail

Just beyond the nesting site there is another public hiking trail. This trail is the Dust Devil Nature Trail, named after the Park's dedicated volunteers who helped build it. This is a beautiful trail with a wildlife viewing area overlooking the freshwater marsh habitat. The trail contains three different loops totaling 1.7 miles.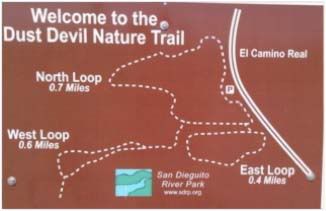 .